ALUMINIUM ACCESS WALKWAY SYSTEM SPECIFICATION
ROOF GRIP ACCESS WALKWAYS ALLOW FOR SAFE AND CONTROLLED ACCESS TO YOUR ROOF SPACE. THIS ENGINEER DESIGNED PRODUCT WILL SIGNIFICANTLY INCREASE THE LIFE SPAN OF YOUR ROOF SHEET INSTALLATION. OUR STANDARD WALKWAY WIDTH IS 600mm WHICH IS THE WIDTH RECOMMENDED BY HEALTH AND SAFETY PROFESSIONALS FOR MAINTENANCE WALKWAYS.
FOR MORE INFORMATION CONTACT:
info@roofgrip.co.za      |    www.roofgrip.co.za     |                                  Tel: +27 (0)33 386 9291
ROOF GRIP IS SUITABLE FOR INSTALLATION ONTO ROOFS WITH A PITCH OF UP TO 10 DEGREE.
ROOF GRIP IS AVAILABLE BANDED OR UN-BANDED.
ROOF GRIP IS AVAILABLE IN A VARIETY OF WIDTHS, 600mm IS OUR STANDARD WIDTH
ROOF GRIP ACCESS WALKWAY SYSTEM FLOOR PANELS ARE MANUFACTURED USING EXPANDED ALUMINIUM ALLOY FLOOR GRATING. THE NON-SLIP SURFACE TEXTURE ADDS TO THE SAFE USE OF THE PRODUCT.
THE LOAD CARRYING BEARER IS A 13 x 4.75mm FLAT BAR. THESE ARE JOINED TOGETHER BY A INTEGRATED WEB. NO WELDING IS INVOLVED IN THE MANUFACTURE OF THE FLOOR GRATING.
THE FLOOR GRATING PANEL IS FIXED TO THE ROOF SHEETS USING AN ELEVATED BRACKET SYSTEM. THIS ALL ALUMINIUM ALLOY BRACKET HAS BEEN SPECIALLY DESIGNED AND ITS USE HAS BEEN APPROVED BY ALL THE MAJOR ROOF SHEET MANUFACTURERS.
THE FLOOR GRATING PANEL IS CARRIED BY THE BRACKET THROUGH A BEARER BAR THAT IS ATTACHED TO A SEAM CLAMP, FIXED TO THE ROOF SHEET. EACH ROOF SHEET PROFILE HAS A SPECIFIC CLAMP DESIGN.
THE SPACING OF THE BRACKETS IS DETERMINED BY THE ROOF SHEET PROFILE AND THE DESIGN LOAD CARRYING REQUIREMENT OF THE WALKWAY SYSTEM.
CONNECTIONS AND INTERSECTIONS
ROOF GRIP ACCESS WALKWAY LINEAR JOINTS ARE EFFECTED USING A SIMPLE H CONNECTOR. THE SAME CONNECTION APPLIES WHETHER THE SYSTEM IS BANDED OR NOT. THE H CONNECTOR IS FIXED ONE SIDE ONLY TO ALOW FOR ANY MOVEMENT DUE TO EXPANSION OR CONTRACTION.  AN EXTRA SUPPORT BRACKET MAY BE REQUIRED TO STIFFEN THIS CONNECTION.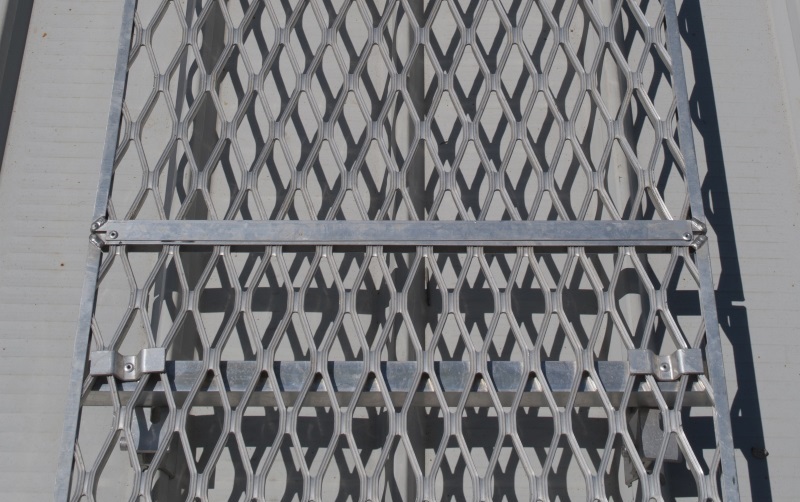 AT EVERY CORNER ONE WALKWAY SEGMENT WILL BE FULL LENGTH AND THE OTHER WILL BUTT UP AGAINST IT. WHERE THIS BUTT JOINT TAKES PLACE AN H CONNECTOR IS FITTED TO ENSURE A SEEMLESS CONNECTION.
WHERE ONE WALKWAY BUTTS UP TO ANOTHER WALKWAY AND A TEE JOINT IS FORMED WE FIX AN H CONNECTOR ON THE INTERSECTING WALKWAY. THIS ENSURES A SAFE, LEVEL ACCESS SYSTEM.
WHEN A WALKWAY CROSSED OVER FLASHING THE BEARER IS FITTED IN THE SAME MANNER AS USUAL, HOWEVER THE CLAMP IS REPLACED WITH AN ALUMINIUM SPACER. THE SPACER MAY BE BONDED TO THE FLASHING TO ELIMINATE ANY MOVEMENT.
ROOF GRIP ACCESS SYSTEMS ARE SUITABLE FOR MOST ROOF TOP WALKWAY APPLICATIONS
¨ ANTI SLIP RIDGES
¨ CORROSION RESISTANT
¨ LIGHT WEIGHT
¨ ENGINEER DESIGNED
¨ COMPLIES WITH SANS 10106-2:2010 Table 2 Category E4
¨ OVER 20 YEARS DESIGN LIFE SPAN
Expanded aluminium walkway                –  Aluminium alloy  6063 T6
Aluminium bearer bar                              –   Aluminium alloy  6063 T6
Aluminium Pop rivets                               –   See manufacturers specification
Roof sheet clamp                                      –   See manufacturers specification
When requesting a quote or ordering, please supply:
a roof plan with the desired layout.
the roof sheet profile on the roof, for bracket identification
the width of the walkway desired.
ROOF ACCESS WALKWAYS—  600mm wide elevated aluminium ROOF GRIP access walkways as supplied by Alifab (033 3869291), manufactured and installed in accordance with the manufacturers specifications.
ROOF GRIP ACCESS WALKWAY SYSTEMS   |   www.roofgrip.co.za   |   Tel: +27 (0)33 3869291