ALUMINIUM STEP ACCESS SYSTEM COMBINED WITH ROOF GRIP WALKWAY LEVELING BRACKET SYSTEM
ROOF STEP ACCESS TREADS ARE MANUFACTURED USING EXPANDED ALUMINIUM ALLOY FLOOR GRATING. THE NON-SLIP SURFACE TEXTURE OF THE FLOORING ADDS TO THE SAFE USE OF THE PRODUCT.
THE LOAD CARRYING BEARER IS A 13 x 4.75mm FLAT BAR. THESE ARE JOINED TOGETHER BY A INTEGRATED WEB. NO WELDING IS INVOLVED IN THE MANUFACTURE OF THE FLOOR GRATING.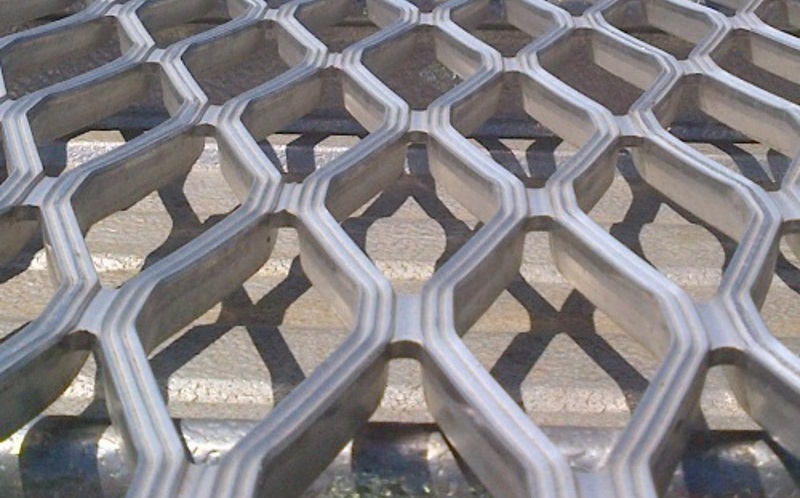 EACH STEP UNIT CONSISTS OF 2 TREADS. THE UNITS MAY BE FITTED SINGILUARLY OR FIXED TOGETHER USING A FISH PLATE. THE TREAD CAN BE PIVOTED AT THE BACK OF ASSEMBLY,   BY CHANGING THE LENGTH OF THE FRONT POST WE CAN ADJUST THE ANGLE OF THE TREAD TO SUIT THE ROOF.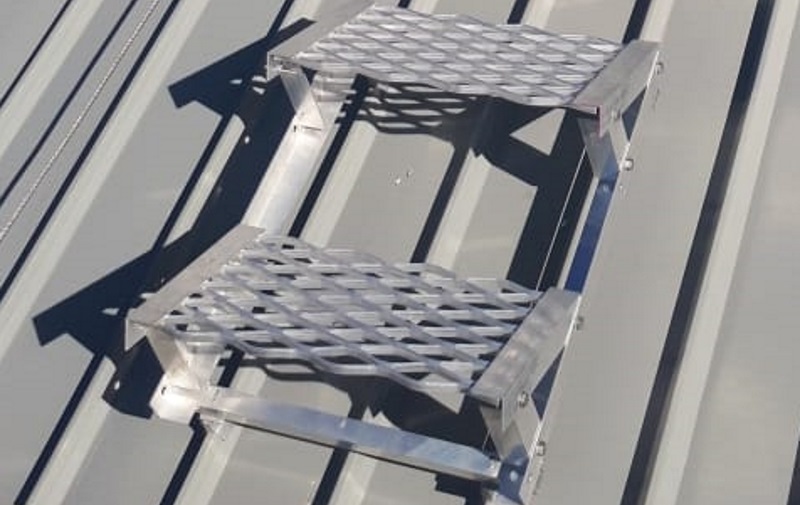 THE STEP UNIT IS FIXED TO THE ROOF SHEET USING A SPECIALLY DESIGNED BRACKET THAT INCLUDES A FIXING, EITHER A SEAM CLAMP OR BONDED CAP, THAT MATCHES THE ROOF SHEET PROFILE.
THE SPACING OF THE BRACKETS IS DETERMINED BY THE ROOF SHEET PROFILE.
WHILE ROOF STEP IS LAYED UP THE ROOF SLOPE, IN LINE WITH THE SHEETING RIDGE,  THE LEVELLED ROOF GRIP IS LAYED HORIZONTALLY ON THE ROOF, I.E. ACROSS THE ROOF SHEET RIDGE.
LEVELLED WALKWAYS HAVE LEVELLING BRACKETS THAT ARE DESIGNED TO SUIT THE PITCH OF THE ROOF AND THE WIDTH OF THE WALKWAY. SEAM CLAMPS ARE USED TO SECURE THE BRACKETS TO THE ROOF.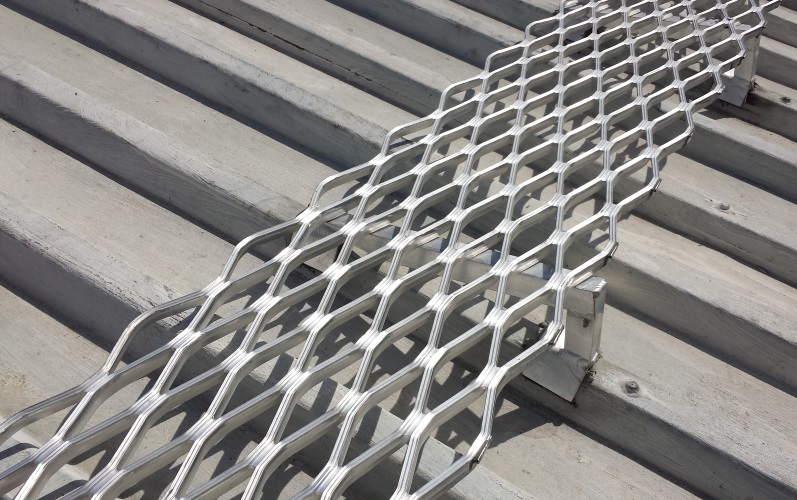 A PURPOSE MADE ALUMINIUM HANDRAIL IS AVAILABLE FOR WALKWAYS THAT ARE INSTALLED CLOSE TO A FALL EDGE.  THE STANCHION SPACING IS DETERMINED BY THE RIDGES ON THE ROOF SHEET PROFILE.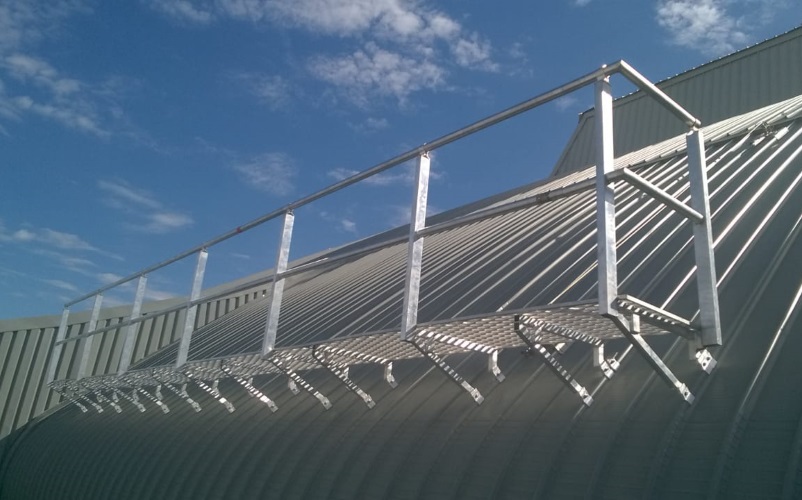 ROOF STEP       IS NORMALLY COMBINED WITH ROOF GRIP ACCESS WALKWAYS THAT HAVE BEEN LEVELED TO GIVE A SAFE AND COMFORTABLE WALKWAY.
ROOF STEP ACCESS SYSTEM IS SUITABLE FOR MOST ROOFS WITH 10 DEG OR MORE INCLINE.
¨ ANTI SLIP RIDGES
¨ CORROSION RESISTANT
¨ LIGHT WEIGHT
¨ OVER 20 YEARS DESIGN LIFE SPAN
¨ APPROVED BY ALL MAJOR ROOF SHEET MANUFACTURERS
Expanded aluminium TREAD                                  –  Aluminium alloy  6063 T6
Aluminium angles & bearer bar                           –   Aluminium alloy  6063 T6
Fixing bolts                                                                   –   304 Stainless Steel
Roof seam clamp                                                        –   See manufacturers specification
When requesting a quote or ordering, please supply:
a roof plan with the desired layout.
the roof sheet profile on the roof, for bracket identification
the pitch of the roof
ROOF ACCESS STEPS—  600mm wide elevated aluminium ROOF STEP access system as supplied by Alifab (033 3869291), manufactured and installed in accordance with the manufacturers specifications.
ROOF STEP ACCESS      |      www.roofgrip.co.za      |      Tel: +27 (0)33 3869291